Contact Steve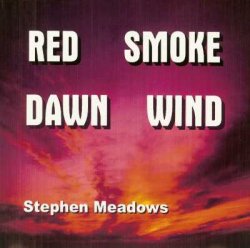 This CD is available by contacting
Stephen Meadows
RED SMOKE DAWN WIND
1. John's Song - an old man's disappearance
2. These Mountains - For Dave Dalton - burning down the last bridge
3. The Old Potter Woman - the art of living for life
4. Bare Root - planting a tree to save a soul
5. Grass Valley - For Beth Wells - survival in the face of cancer
6. The Night of that Passing - written for Joseph & Indians everywhere
7. Ten Mile - a lament for lost forests.
8. Black Lung - for the ones who bring us the coal
9. For my Father having lost his Mind - the tragedy of Alzheimer's
In a Van Gough December - yetlow leaves in the wind
10. Reweaving the World Ohlone - For a California Indian basket maker, LlndaYamane
11. Blues for Juanito - a young Indian's disappearance
12. Todos Santos - for the poor and their indomitable faith
13. Blackberries - A love poem for Karlen
14. Bedtime Story - for my young son, Steve, in the moonlight
15. For the Living - For Breck Tyler & Martha Brown - this poem is on a bronze plaque in San Francisco
16. At Noon with Han-Stan - for Gary Snyder
This recording is dedicated to Steve, Karlen and Eunice
Stephen Meadows is a Californian of Ohlone Indian and pioneer descent. His work has appeared most recently in the anthology, "The Dirt is Red Here" from Heyday Books in Berkely California. Ten of the seventeen poems found here have been previously published and one of his poems graces a bronze plaque in the city of San Francisco. Stephen is a folk music DJ at KFOK Community Radio and holds a Masters Degree from San Francisco State University. He lives with hls wife and son in the foothills of the Sierra Nevada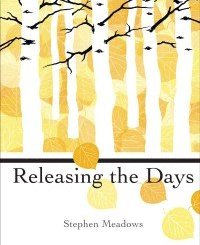 Releasing the Days
available here
Stephen Meadows
A native poet's first collection
Releasing the Days is the first collection of poetry drawn from over thirty years of Stephen Meadows's work. Crafted from his sense of place and grounded in ocean, orchard, and rock, his poems strip down life to its bare essentials.
Memory joins hands with the reeds and the smell of matches. An old woman leans on a walnut tree beside a house half-haunted with unuttered toils. And the moon slips past the bruised Nevada mountains echoing the night's journey from the sun.
Characterized by a profound connection to the past and the stark magnificence of the present, Releasing the Days leaves an imprint that remains long after we've passed the roadside barn swallowed up by grass and time.
"In these quiet, clear-sighted poems, Stephen Meadows reminds us to look carefully outside ourselves to seek answers to our human questions and nudges us to open our eyes to the daily wonders of our world."
—Barbara Bloom, poet and author of On the Water Meridian
"Stephen Meadows has a true gift for poetry. He wrote 'In the Water over Stones' for his great-aunt Isabel Meadows, who left behind a rich body of Ohlone cultural knowledge. Now Stephen offers up his own gift to us all, expressing his very human and very California experience."
—Linda Yamane, Rumsien Ohlone basketweaver and tribal scholar